Welcome to the DanceSafe Volunteer Training Course!
About DanceSafe
DanceSafe is a 501(c)(3) public health organization promoting health and safety within the nightlife and electronic music communities. Founded in the San Francisco Bay Area in 1998 by Emanuel Sferios, DanceSafe quickly grew into a national organization with chapters in cities across North America.
DanceSafe has two fundamental operating principles: harm reduction and peer-based, popular education. Combining these two principles has enabled us to create successful, peer-based educational programs to reduce drug misuse and empower young people to make healthy, informed lifestyle choices. We are known for bringing adulterant screening (a.k.a., "pill testing," "drug checking") to the rave and nightlife community in the U.S., and for distributing unbiased educational literature describing the effects and risks associated with the use of various drugs. We neither condone nor condemn drug use. Rather, we provide a non-judgmental perspective to help support people who use drugs in making informed decisions about their health and safety.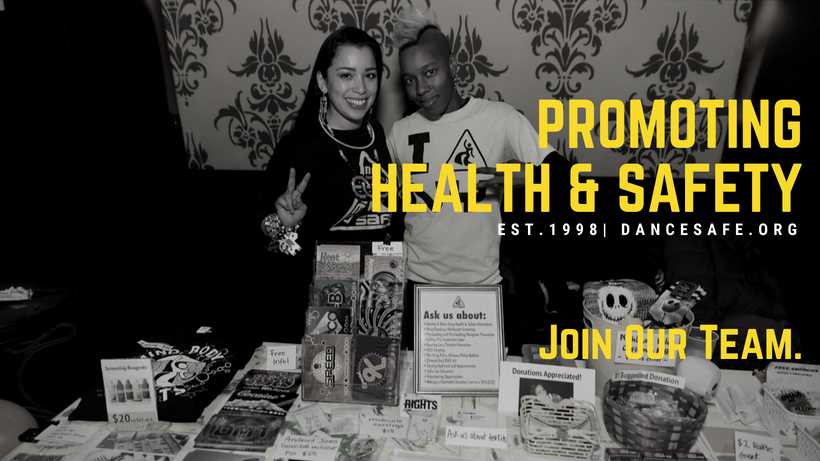 On the ground, DanceSafe Volunteers can be observed providing the following services:

Safe spaces to engage in conversations about health, drug use, and personal safety;

Free water and electrolytes to prevent dehydration and heatstroke;

Free safe sex tools to avoid unwanted pregnancies and the spread of STIs;

Free ear plugs to prevent hearing loss;

Honest, fact-based, unbiased information on drug effects and potential harms to empower users to make informed decisions;

Nonjudgmental first-point of contact to risky or challenging situations;

Drug checking services to prevent overdose and death; and

Collaboration with promoters and local stakeholders to advocate for safety first approaches.
Our DanceSafe Chapters consist of individuals from within the electronic music and nightlife communities who have a sincere interest in ensuring the health and safety of their peers. We train our volunteers to be peer educators within their own communities, utilizing the principles and methods of harm reduction and peer-based, popular education.
Find a DanceSafe Chapter Near You!

We currently have local chapters throughout the U.S. and one in Calgary, Alberta, Canada. At the moment, we are focusing our efforts domestically, however, everyone is welcome to take our course.

Our active DanceSafe Chapters include:
Arizona DanceSafe

Chicago DanceSafe

DC DanceSafe

Denver DanceSafe

Florida DanceSafe (based in Tampa Bay Area, FL)

Georgia DanceSafe (based in Atlanta, GA)

Los Angeles DanceSafe

Michigan DanceSafe (based in Detroit & Ann Arbor, MI)

Midwest DanceSafe (based in Madison, WI)

New England DanceSafe (based in Boston, MA)

New Mexico DanceSafe

New York DanceSafe (based in New York, NY)

North Jersey DanceSafe

Orlando DanceSafe

PartySafe (based in Calgary, Alberta, Canada)

Pennsylvania DanceSafe (based in SE Pennsylvania)

PDX DanceSafe (based in Portland, OR)

Pittsburgh DanceSafe

Rave Relief aka SLC DanceSafe (Based in Salt Lake City, UT)

Stay Safe Seattle (based in Seattle, WA)

Twin Cities DanceSafe (based in Minneapolis, MN)
DanceSafe Chapters service their city/state and the surrounding areas. If you're uncertain if you qualify as living near a DanceSafe Chapter or have other questions about getting involved, feel free to reach out to volunteer@dancesafe.org.
Our Preliminary DanceSafe Chapters include:
Preliminary DanceSafe Chapters are groups of individuals who are working towards starting a DanceSafe Chapter. If you have question about getting involved, reach out to volunteer@dancesafe.org!
Don't see a DanceSafe Chapter near you? Reach out to kristin@dancesafe.org about the possibility of starting a DanceSafe Chapter in your local area. Live outside the U.S. and interested in starting a similar group of your own? We're happy to talk to you about our work. Reach out to our Director of Operations, Kristin Karas, at kristin@dancesafe.org!
About the DanceSafe Volunteer Training Course

The DanceSafe Training Program allows us to train new volunteers (for free) at a distance - in the US or abroad. The course is designed to provide future DanceSafers a consistent baseline of knowledge from which they will grow as harm reduction peer-educators. The most successful individuals will come with a nonjudgmental attitude, a willingness to learn, and a sincere interest in giving back to and looking out for the health and safety of the electronic music and nightlife communities.
During this course, you will learn everything you need to know before stepping into a DanceSafe booth. The course is comprised of the following sessions:

Session 1: Introduction to DanceSafe

Session 2: Health & Safety

Session 3: Harm Reduction & Drug Education

Session 4: Drug Checking

Session 5: Recognizing an Emergency
If you have any questions, concerns, comments, and/or feedback throughout the course, please reach out to kristin@dancesafe.org.